Newsletter message about the exhibition "Global Learning in the Classroom" at Didacta Fair* on 19-23.02.2019 in Cologne, Germany
The biggest and most important education fair in Europe. More than 900 exhibitors. Didacta 2019 in Cologne. And right in the middle of the community stand "Global Learning in the Classroom" the team of the World University Service (WUS). A short report from me as a supporter at the fair.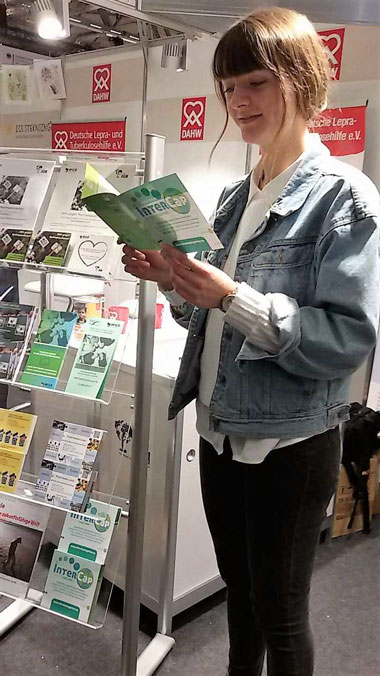 Julia Westphal at the Stand of WUS Germany
My main motivation for doing the internship and supporting the stand was to participate in the exhibition "Global Learning in the Classroom" within the education trade fair Didacta. As I have never been to the fair before, I was deeply interested to join the team of the World University Service (WUS) and to support their work as exhibitors. I strongly believe that lifelong learning is both a chance and a necessity in our globalised world and the society of today and tomorrow. The fair offered me the chance to get in contact with other people, who are also interested in the future of education. Furthermore, I cooperated with the other attending organisations like Unicef, Welthungerhilfe and Kindernothilfe at the community stand. The collaboration of these organisations seems to be one of the most important aspects of the so-called community network EWIK (Eine-Welt-im-Internet-Konferenz).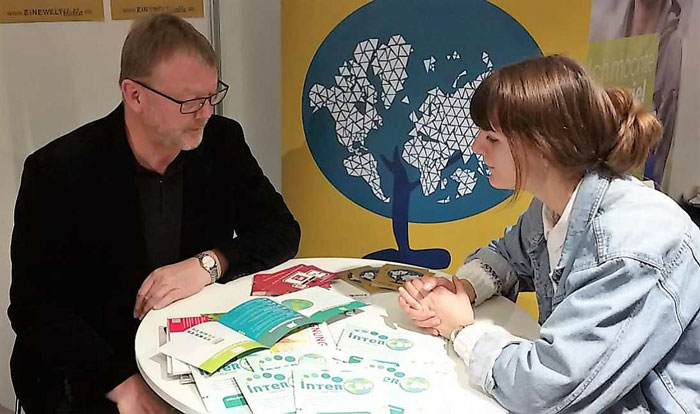 Visitors of Didacta
All the topics I was engaged in were linked to issues related to the concept of global learning. Most of the time I showed the visitors the different offers of the World University Service (WUS) and explained them the advantages of the homepage www.globaleslernen.de and the blog on sustainability eineweltblabla.de. I clarified the possibilities to profit from these offers and highlighted the benefit for teachers and pre-teachers. I also distributed flyers of the InterCap project among the visitors and presented the opportunities within various project activities such as the Training Package.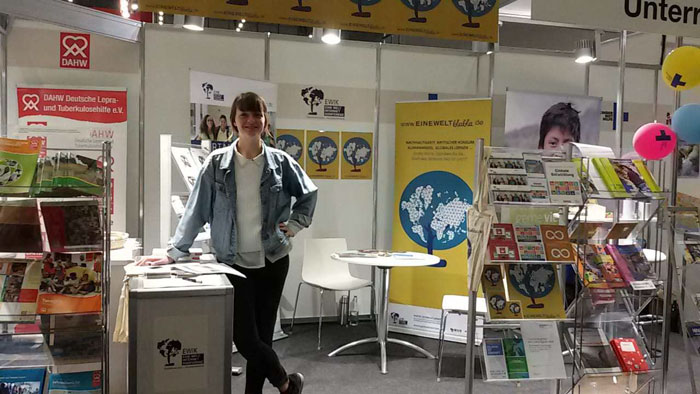 Working at the Stand
During the practical work at the fair I got to know all lot of people, who are working in the wide field of education. It was very refreshing to get to know teachers and pre-service teachers, who already have experiences with the concept global learning. It was fruitful to understand what the teachers need and how we could assist them for the sake of better future. I became conscious how essential a broad publicity work is for global learning. We need more of that!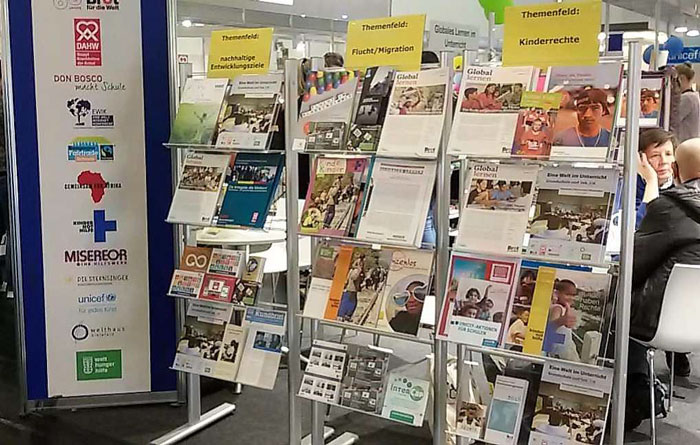 Flyers, posters and magazines, dedicated to different topics
In the appendix you will find some impressions of the fair.
*Didacta is Europe's biggest annual exhibition for education. The fair offers a platform for current developments, issues and services in education, training and adult qualification. 2019 welcomed more than 900 exhibitors and around 100 000 visitors.