Written by Felicitas Nilles
It was clear to me that organizing a podium discussion on the topic of migration would not only be exciting but also involve a lot of work. I never thought that it would be so much fun to moderate a round. I got this unique opportunity as part of my internship and involvement in practice-oriented project at InterCap. I went beyond my limits and was able to gain exciting experiences. In this report I would like to talk about my experiences with InterCap.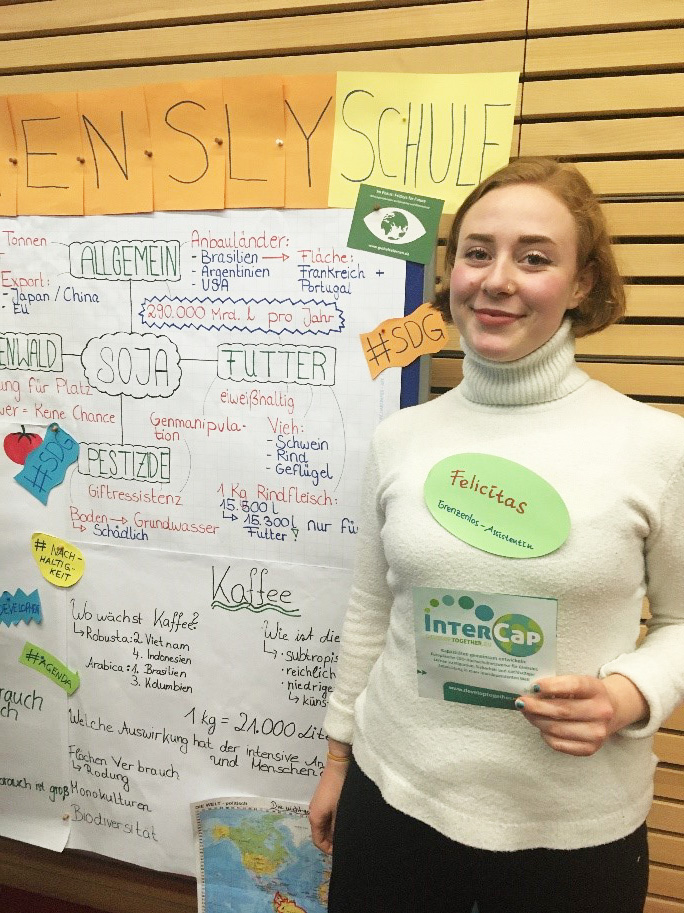 A vacant chair and many exciting contributions. These two points distinguished the afternoon of November 23, 2019 in Wiesbaden. As part of the STUBE Hessen seminar " Responsible migration policy - is there such a thing?!" an exciting and open discussion was organized and carried out jointly by STUBE Hessen and InterCap. I had the opportunity to be there.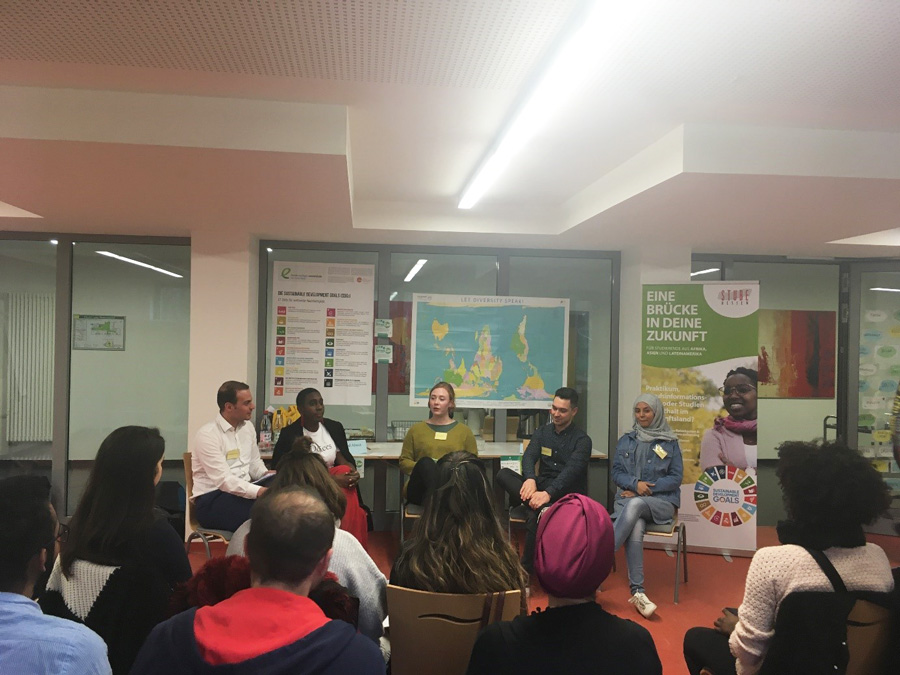 Podium Discussion on migration on 23.11.2019
As part of my internship at InterCap, I was given the opportunity to plan, initiate and moderate the afternoon podium discussion on the subject of "Origin, arrival, future - who is responsible for migration?". It was a very exciting and enriching experience for me. Interesting questions and a suitable course had to be designed in advance. As part of the discussion, all other participants were given the opportunity to participate. In addition to the fixed discussion spaces for the experts, there was also a so-called flexible chair, on which the participants could sit down at any time and actively participate in the discussion. The exchange was diverse, very lively and exciting.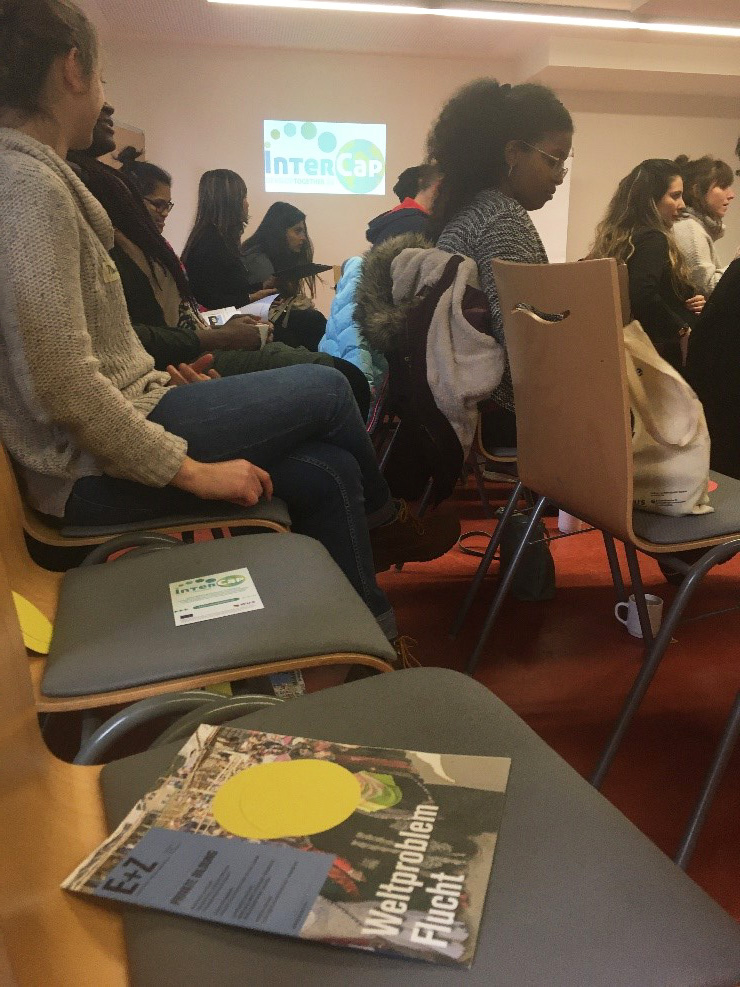 Podium Discussion on migration on 23.11.2019
Around 30 participants were present. The group was mixed - many participants from the STUBE seminar took part, but also some others and of course the experts. The experts were sociology student Wed Al Dobhani, who is currently working for GIZ (Deutsche Gesellschaft für Internationale Zusammenarbeit); Mohammad Alissa, doctoral student at the Technical University of Central Hessen (THM) and founder of the Malik - Education is Future e.V. association; Aicha de Bah-Diallo, women's rights activist and project coordinator at jumpp - Frauenbetriebe e.V. in Frankfurt; and Sebastian Koch, PhD student at the Chair of Human Resource Management at Goethe University Frankfurt.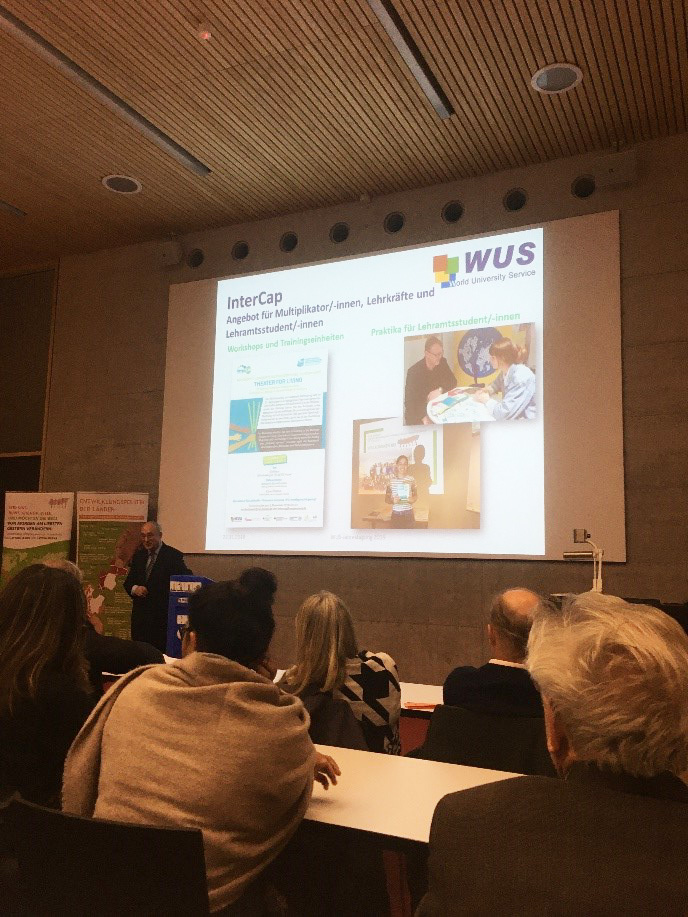 WUS-Award Ceremony on 22.11.2019, Wiesbaden
In addition, I was able to attend the WUS award ceremony for the best Bachelor/Master/PhD Thesis on migration, human rights and sustainability topics on November 22, 2019. More than 100 people attended the ceremony, including the president of the RheinMain University, where the event took place. It was my job to arrange the poster exhibition, dedicated to the Global Education Week 2019, with the posters by school pupils that had been issued that morning at the Peter-Paul-Cahensly School in Limburg. There I had a chance to be part of the certification process as a Grenzenlos-School for its sustainability efforts. The event was very nice and exciting, in which the Grenzenlos-speakers came together with pupils, teachers and local politicians. Both the morning certification at school and the evening WUS annual meeting and award ceremony were very interesting events for me, as it gave me the opportunity to look behind the scenes of the WUS Germany and work of NGO sector in general.